African Crags Sunset Views
Pine Trees...needed to go!
Posted on Sat February 17, 2018.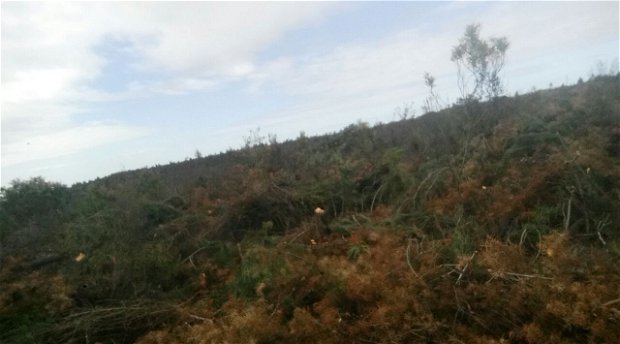 Over 4,000 pine-trees were cut down on our's and our neighbour's property at the end of 2017 to make space for the indigenous vegetation, mostly 'fynbos' and proteas.
At the end of 2017 we decided to 'take action' against most of the pine trees that have been growing on our property and on that of our neighbour (the Kaminsky Family Trust). We counted about 4,000 pine trees in various shapes and seizes. It took Lameck 5 weeks with the help of Isaac and Philip from Kurland Village to cut down those trees. The result is twofold: 1. less pine trees means less fire hazard or at least when there is a fire the chances of spreading have now decreased and 2. less pine trees means more space for indigenous 'fynbos' to grow. We saw all kinds of proteas and other 'fynbos' while clearing the pine trees and and they now got more space and water to grow as pines also consume way more water than indigenous vegetation. We've kept a couple of pine trees where they are landmarks or serve another purpose. The ones cut down are now drying-out and will either make firewood or poles that we can use in the near future.